Marketing et technologie : un duo gagnant pour l'internationalisation des services.
The service industry firms that succeed in going international are those that have been able to judiciously combine distinctive marketing competencies with economic and behavioural choices both upstream and at the final market level. Thus, in as far as marketing is concerned, the firm must first perform like a veritable service profession and build a reputation for excellence. At the economic level, it relies on strong political and commercial relationships. Technologically, it must possess the necessary expertise to better master the management of activity flows and better control the multicultural interactions that may hamper its service activities and reputation for excellence. Those are three main subjects that we study in this paper based on examples from French and American mass distribution.
Les entreprises de services qui réussissent leur implantation à l'international sont celles qui ont su allier et combiner savamment, des compétences marketing distinctives, des choix rationnels d'implantation au regard d'aspects économiques et comportementaux et l'utilisation de technologies diverses et variées, à la fois en back office et en front office. Ainsi, au plan marketing, l'entreprise doit d'abord exercer un véritable métier de service et bénéficier d'une présomption d'excellence sur son activité à l'international. Au plan économique, elle doit s'appuyer sur des relations à la fois politiques et commerciales fortes. Au plan technologique, elle doit détenir les expertises nécessaires pour mieux maîtriser la gestion de ses flux d'activités et mieux contrôler les faces à faces multi-culturelles qui peuvent mettre en difficulté son métier de service et sa présomption d'excellence. Trois axes fondamentaux que nous étudions dans cette recherche en nous appuyant sur l'exemple de la grande distribution française et américaine.
Fichier principal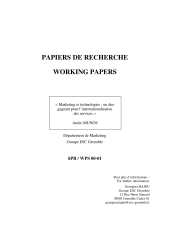 WPS_2000-n1.pdf (185.73 Ko)
Télécharger le fichier
Origin : Files produced by the author(s)