Process Moves in The Intra-organizational Diffusion of Knowledge Management: Preliminary Findings from A Study on CKO Effectiveness
The existing literature on Chief Knowledge Officers (CKOs) focuses on individual characteristics and organizational context but fails to convincingly address the issue of process dynamics in terms of effective and ineffective CKO moves and strategies. In order to address this gap we review propositions from the management fashion, diffusion of innovations and issue selling literatures, and identify sets of effective and ineffective CKO process moves based on an empirical study of CKOs in large industrial and financial service companies in Germany and Switzerland. The paper proposes an agenda for future CKO research, and concludes with a set of guidelines for organizational practice.
La littérature existante concernant les "Chief Knowledge Officers" (CKOs) traite des caractéristiques individuelles ainsi que des contextes organisationnels, mais ne donne pas de réponses convaincantes quant aux stratégies concrètes que ces acteurs choisissent pour assurer la mise en oeuvre de leurs projets de "knowledge management". Pour fournir des éléments de réponse à cette question, nous nous appuyons sur des recherches portant sur les modes managériales, la diffusion des innovations, et les processus de "issue selling" organisationnel. Nous nous basons sur une étude empirique menée auprès d'un échantillon de CKOs dans plusieurs grandes entreprises en Allemagne et en Suisse afin d'identifier des stratégies efficaces et inefficaces pour la mise en oeuvre de projets de "knowledge management". Notre article propose un agenda de recherche et développe un ensemble de suggestions pour la pratique organisationnelle du "knowledge management".
Fichier principal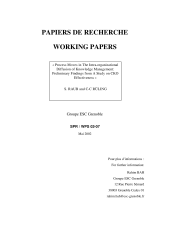 WPS_02-07.pdf (81.08 Ko)
Télécharger le fichier
Origin : Files produced by the author(s)