Les modèles de diffusion d'innovations en marketing et l'adoption d'Internet en France
The innovation diffusion models developed in marketing are applied to the adoption of Internet in France. The most classical of them, the Bass model is adjusted to the estimations of Médiamétrie. The NUI model (Easingwood, Mahajan et Muller, 1983) has been utilized to introduce the network externalities by incorporating the increasing influence of interpersonal communication on the penetration as a function of previous adopters. Some predictions of the penetration of Internet in France are proposed.
La diffusion d'Internet en France est analysée à l'aide des modèles de diffusion des innovations développés en marketing. Le modèle de Bass (1969), le plus classique, a été ajusté aux estimations faites par Médiamétrie. Les effets d'externalités de réseau sont introduits à l'aide du modèle NUI (Easingwood, Mahajan et Muller, 1983), par la prise en compte de l'augmentation de l'influence de la communication interpersonnelle en fonction du nombre d'adopteurs cumulés. Des prévisions de la pénétration en France d'Internet sont proposées.
Fichier principal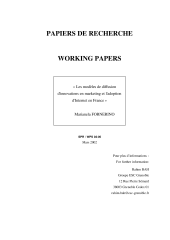 WPS_02-05.pdf (108.51 Ko)
Télécharger le fichier
Origin : Files produced by the author(s)