LA CONSTRUCTION DE LA CONFIANCE ENTRE LES PARTIES PRENANTES D'UN PROJET DE QUARTIER DURABLE.
This research focuses on urban planning from the perspective of the relations between the partners of an eco-district project. It aims to identify and understand the types of trust, mistrust and their evolution in the relations between the partners, as well as the mechanisms associated with them and their impact on the development of the project. This research also aims to lead a managerial and societal reflection.
Cette recherche s'intéresse à la planification urbaine sous l'angle des relations entre les parties prenantes d'un projet d'écoquartier. Elle vise à identifier et à comprendre les types de confiance, la méfiance, la défiance et leur articulation et évolution dans les relations entre les partenaires (ville, aménageur, constructeur, promoteur) ainsi que les mécanismes qui leur sont associés et leur impact sur le bon déroulement du projet en cours. Cette recherche se donne également pour ambition de mener une réflexion sur les plans managérial et sociétal.
Fichier principal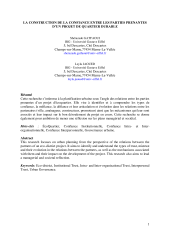 La construction de la confiance entre les parties prenantes d'un projet de quartier durable.pdf (324.27 Ko)
Télécharger le fichier