Le Règlement en ligne des litiges du commerce électronique : cas de l'arbitrage électronique
The rapid growth of electronic commerce has resulted in an increasing number of cross-border disputes. Some of these disputes concern matters specific to cyberspace, such as electronic contracts and invasion of privacy. These disputes often require lengthy and costly court proceedings, which undermines consumer confidence in e-commerce. To address this issue, there have been various initiatives to promote alternative dispute resolution, such as online arbitration, which can provide a quick and inexpensive mechanism for resolving e-commerce disputes. Laws and recommendations have also been adopted to regulate e-commerce transactions and alternative dispute resolution.
La croissance rapide du commerce électronique a entraîné un nombre croissant de litiges transfrontaliers. Certains de ces litiges concernent des sujets propres au cyberespace, comme les contrats électroniques et l'atteinte à la vie privée qui ont donné lieu à des décisions judiciaires. Ces décisions sont prononcées après une procédure longue et couteuse. Pour que les consommateurs reprennent confiance dans le commerce électronique, il faut développer efficacement des mécanismes rapides et peu coûteux pour résoudre les controverses qui découlent du commerce sur Internet. L'arbitrage en ligne pourrait être une alternative efficace pour effectuer des transactions sur Internet. Plusieurs initiatives ont été prises en ce sens pour promouvoir les modes alternatifs de résolution des conflits. Des lois et des recommandations ont été adoptées pour réglementer les transactions de commerce électronique et les règlements extrajudiciaires des litiges.
Fichier principal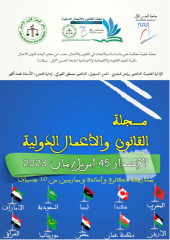 Le Règlement en ligne des litiges du commerce électronique.pdf (1.19 Mo)
Télécharger le fichier
Origin : Publisher files allowed on an open archive